Dear Joe,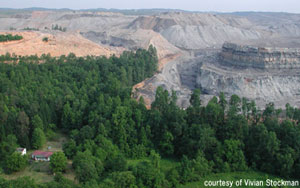 It will take more than luck to end mountaintop removal mining. On this St. Patrick's Day, we need you to help keep the Appalachian mountains green and their waters clean.
In just a few weeks, more than 150 citizens from Appalachia and across the U.S. will be in our nation's capital as part of our 6th Annual End Mountaintop Removal Week in Washington. They will be meeting with members of Congress to discuss the dangerous impacts of mountaintop removal coal mining on water quality and community health in Appalachia.
These citizens need your help to get their message across.
That's why we're asking you and nearly 60,000 other members of iLoveMountains.org to
contact your Representative in Congress to ask them to co-sponsor the Clean Water Protection Act
:
http://salsa.democracyinaction.org/dia/track.jsp?v=2&c=dPtpHuboy%2Bs%2BPjZf1T0Bl%2FI2xEqb3Gej
By contacting your House Representative today, you let elected officials know that
now is the time for Congress to take action to stop mountaintop removal coal mining
.
The Clean Water Protection Act
is a bill in the US House of Representatives which will sharply reduce mountaintop removal coal mining by ending valley fills and protecting our headwater streams. To date, over 2000 miles of streams have already been buried and polluted. But we can stop this, with your help.
Contact your Representative today and ask them to become a cosponsor of the Clean Water Protection Act.
Thank you for taking action today.
Matt Wasson
iLoveMountains.org